As a longtime drywall contractor, Austin Bitz has watched a lot of building material go to the landfill.
"It's kind of surprising how much drywall gets thrown away on a typical job site," said Bitz, owner of Hangman Drywall in Bismarck.
Now Bitz is launching a second business, Dakota Gypsum Supply, to recycle drywall that would otherwise be wasted and make products that have value for agriculture and oilfield reclamation.
The main component of drywall is gypsum, a soft mineral that can be added to the soil as a source of calcium or sulfur.
Bitz purchased a recycling plant that can separate the paper from the drywall and pulverize the gypsum into a fine powder or small pellets. He plans to market products to North Dakota farmers, as well as landowners who are dealing with brine contamination from oilfield spills.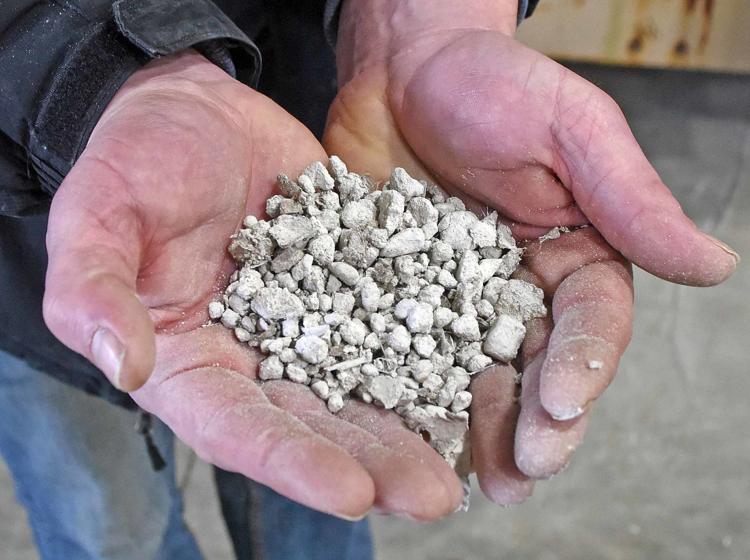 "It's kind of an obscure business," Bitz said. "But it's almost ideal for our state because of what it produces."
As Bitz was researching his business venture, he attended a conference in Denver and met Kerry Sublette, a University of Tulsa professor of environmental engineering.
Sublette has worked on oil and gas environmental issues for more than 30 years, including consulting on remediation projects after brine spills. Produced water, or brine, is a waste byproduct of oil and gas production that can be devastating to the land.
Sublette said adding calcium to brine-contaminated soil is one step to restoring the land. Gypsum is the cheapest source of calcium, Sublette said.
"The cheaper you can make it, the more likely people will add enough calcium to get impact from it," he said.
Bitz also expects to sell gypsum to farmers, who can spread gypsum with a fertilizer spreader. He also is marketing it for use in gardens or lawns.
Dakota Gypsum Supply has about 1,000 tons of drywall stockpiled and expects to start producing gypsum products in April. Bitz estimates that as much as 25,000 tons of drywall are buried in North Dakota landfills each year from leftover scraps at a construction site to full sheets that get damaged at lumber yards. The closest drywall recycling plant to North Dakota is Princeton, Minn., according to Bitz.
Contractors or do-it-yourselfers will be able to drop off drywall at Dakota Gypsum Supply rather than pay a landfill to take it. Bitz said he plans to take collections starting in May.
"It's going to save space in the landfill, and the material that I produce is going to go back into our soil here and make it better," Bitz said.