Shane Feller, a 49-year-old  Manheim Township resident, pulls into a former firetruck bay on New Holland Avenue, muscles an armful of newspaper from his car and heaves it into a large metal bin.
"I get the newspaper. I wouldn't want to throw all these away if I can recycle it, so this is great," Feller says during a couple-minute stop.
For Feller and many other Lancaster County residents unhappy with the recent ban on some household recycling items from their trash collector, Lancaster city's Recycling Drop-off Center has been a savior.
And even with a soaring influx that sometimes threatens to overwhelm the former firehouse, city officials say they will continue to ensure that newspapers, magazines, junk mail, cereal boxes, chipboard egg cartons, toilet paper rolls and other banned recyclables end up being re-used.
"We want to recycle as much as we can. We're going to be in this, good, bad or indifferent," says Tim Breneisen, the city's  manager of solid waste and recycling.
Anyone can bring accepted recyclable items to the drop-off center at 850 New Holland Ave., next to Burle Business Park. It is open weekdays from 8 a.m. to 5 p.m. and Saturdays from 8 a.m. to noon.
Recycling crisis
After decades of increased recycling of the waste stream, many programs across the country underwent major upheavals this summer when China cut off much of the paper and plastic recyclables it had long gobbled up from the U.S.
China said the material was too contaminated with unwanted trash and unclean recyclables.
With no place to buy its vast volume of recyclables, America's recycling markets collapsed almost overnight, making many materials worthless for reuse.
In late July, the Lancaster County Solid Waste Management Authority scaled back what trash haulers could accept for curbside recycling.
Long-recycled items such as newspapers, magazines and many types of plastics were banned, much to the dissatisfaction of many county residents who had long been implored to recycle such material.
But Lancaster city decided to continue accepting many of the banned newspaper, paper and cardboard products at its five-year-old drop-off center. It's the only municipality to set up a facility to take the banned recycling materials.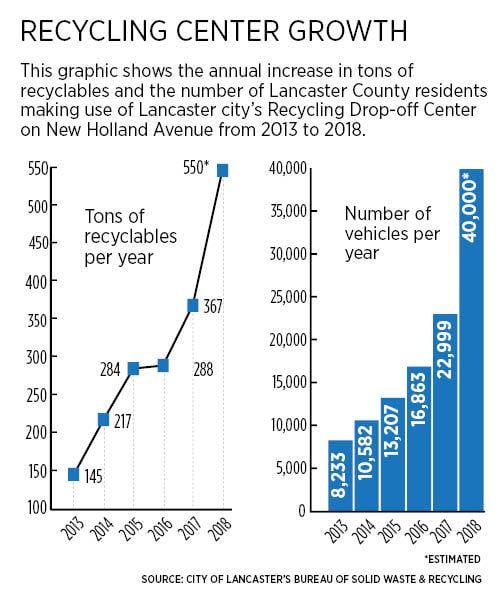 Dramatic increase
The result has been dramatic. With determined residents driving to the center from all over the county, the monthly volume of recycled material has more than doubled since July,  when the partial curbside ban went into effect, notes Breneisen.
Last year, 23,000 vehicles passed through the center to drop off recyclables. In 2018, that number is on track to nearly double to an estimated 40,000 vehicles by the end of the year.
The volume of recyclable material is expected to jump from 367 tons in 2017 to 550 tons this year.
Sometimes, drivers queue up eight at a time to drop off their items. Many are grateful for the opportunity to continue to do what they feel is the right thing for the environment.
When it initially opened in 2013, the city's drop-off center was seen primarily as a way to encourage downtown businesses to recycle. By driving paper products to the center, the businesses could avoid the fee of hiring a hauler.
But when the recycling ban hit, the center became a targeted alternative for many residents who were frustrated by the reduction in curbside recycling.
Recycling cheaper than trash
The city has willingly taken on the influx of recyclables from all over the county, partly in the belief that recycling is good for the environment and partly for economic reasons, Breneisen says.
The recyclable materials do not bring much money. But it is still cheaper to gather, process and sell them than it would be to collect the material as trash at curbside from 18,100 city homes and pay a dumping fee charged by the waste authority.
"We've kept trash bills the same for nine years because of having residents and businesses diverting recyclables from the trash stream," Breneisen notes. (The city is proposing to raise trash bills by $10 a year, beginning in 2019.)
The city is able to squeeze more revenue from the recyclables because it has taken on the separation and packaging process that is normally handled by middlemen in the recycling process.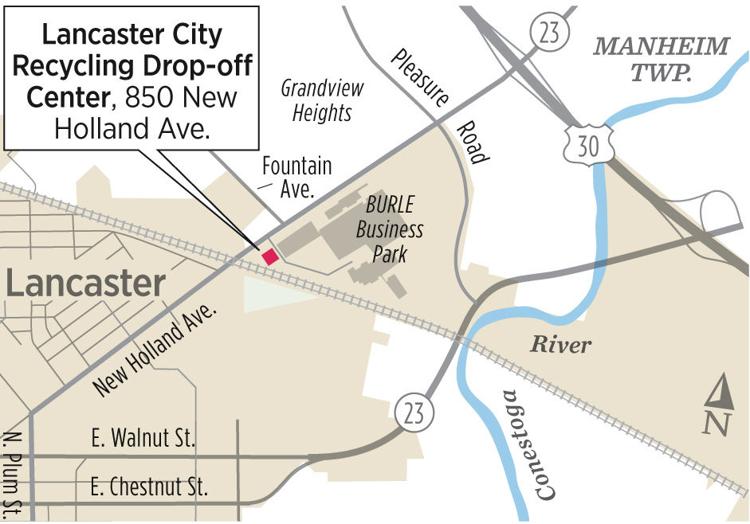 Each recycling stream at the drop-off center is baled and sold to a processor, Reliable Industries of Lititz, which then sells directly to mills that make new products from the recyclables.
There are always at least two city employees on the site. They help residents unload, making sure they place material in the right bins, and spend time out back baling the items.
A key to saving money, Breneisen says, has been residents' willingness to separate the different materials before driving them to the facility and making sure they are clean.
"The city is committed to doing this," Breneisen stresses. "People just need to follow directions and get in here and get out. It will be smooth, and we will have a commodity."
The county waste authority praises the city for its expanded recycling.
"While it requires a bit more effort for residents to sort their materials and deliver to the drop-off center, this ultimately yields a positive impact to our recycling program in Lancaster County," says authority spokeswoman Katie Sandoe.
For more information on the drop-off center, click here or call 717-291-4744.