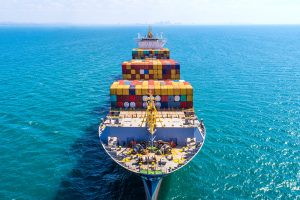 Despite a year of market uncertainty, U.S. recovered paper exports increased in 2018, driven largely by OCC shipments. However, scrap plastic exports fell substantially as countries enacted stringent trade policies.
Full-year export figures were released by the U.S. Census Bureau this month.
OCC drives up fiber exports
U.S. companies exported nearly 21.0 million short tons of recovered fiber in 2018, up from 20.1 million in 2017. That increase came despite China reducing fiber imports by 3.7 million tons. There was significant growth in exports to India, Indonesia, South Korea and elsewhere.
The trade numbers show a striking trend by grade. Mixed-paper exports dropped from 3.9 million short tons in 2017 to 2.9 million in 2018, marking the lowest year for mixed-paper exports since at least 2002, when Census Bureau trade records begin.
At the same time, OCC exports grew nearly 27 percent, increasing from 9.9 million short tons in 2017 to 12.5 million tons in 2018. That makes 2018 by far the largest year for OCC exports in the period for which records are available.
The mixed-paper decline was driven primarily by China, which significantly reduced its U.S. mixed-paper imports from 2 million short tons in 2017 to just 113,000 tons last year. But China's OCC purchases kept pace, with the country bringing in about 6 million short tons of U.S. OCC each year.
The largest importers of all U.S. fiber grades were China (8.3 million short tons), India (3.7 million), Mexico (1.8 million), Indonesia (1.3 million), South Korea (1.2 million), Canada (940,000), Vietnam (860,000), Taiwan (770,000), Thailand (520,000), Italy (290,000), the Netherlands (150,000) and Malaysia (120,000).
(Story continues below charts. Click a chart to view full size in a new browser window.)