Both the New York Times and Atlantic magazine carried major reports last month highlighting municipal recycling programs that have scaled back, suspended or cut curbside recycling service.
Using words such as "crisis," "chaos" and "collapse," these reports and others have questioned whether recycling remains economically viable. "Is This the End of Recycling?" the Atlantic headline asked.
While industry stakeholders agree that China's pull-out has caused major disruption and that prices are at historic lows, they are pushing back at the notion that recycling is dead.
"Some of the news is exaggerated," said Scott Mouw, senior director of strategy and research for The Recycling Partnership, a nonprofit based in Falls Church, Va., that helps communities improve recycling. "We don't see evidence of a great number of municipalities dropping their programs."
Mixed paper, mixed plastics (numbers 3-7) and glass are the weakest markets, and some recyclers are dropping those, he said. And some programs have had to adjust their costs. But "the vast majority of programs are hanging in there," he said.
A representative of Waste Management, the largest hauler and MRF (materials reclamation facility) operator in North America, said that it continues to move recovered material to end markets instead of landfilling.
And of its more than 5,000 municipal contract customers, the Houston-based company has identified only two that have chosen to pause or stop their recycling programs to date, said Julie Ketchum, public affairs representative for the company in Iowa.
"In general, these are tough times, but we're weathering that storm," she said.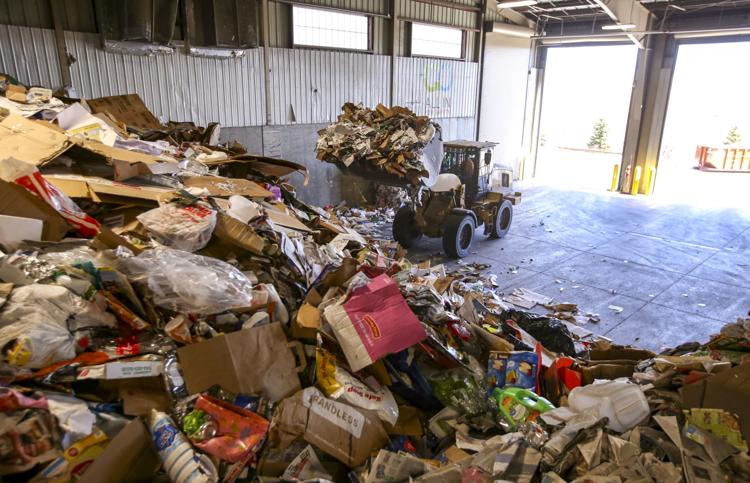 Cole Rosengren, senior editor of the online publication wastedive.com, said of the largest 20-30 cities in the country, only Philadelphia has been forced to stop some of its recycling. In that case, the city is shipping about half its recyclables to an incinerator.
Most cancellations and cutbacks have been in small- and mid-sized cities that don't have the leverage of their larger counterparts, he said.
He also pointed out that the disruption has forced difficult conversations across the country about costs, who profits from recycling and where recyclables go.
The United States doesn't have a national recycling policy, Rosengren pointed out. States, counties and cities deal with private companies that can end up dictating terms. "Cities don't always have choices," he said.
The need for clean recyclables, education
One of the reasons for the crashing markets is that recyclables across the country have become increasingly contaminated with trash that cannot be recycled.
So a big push among all recyclers these days is education — educating the public about what to put into their bins so that the end product is cleaner, has less contamination and therefore, is worth more to end markets. Yes, contaminants are supposed to be sorted out at a recycling center, but the more contamination that exists in the first place, the more slips by.
"We are launching campaigns against contamination," Ketchum said. "There is a need to clean up, and other recyclers are picking up on that."
Alan Schumacher, president of the Iowa Recycling Association, blames increased contamination on the nationwide shift over the past decade to single-stream recycling.
Single-stream refers to the type of recycling the Scott Area center adopted in the summer of 2016 in which all recyclables go into one bin, rather than have residents sort paper from everything else. Single-stream also accepts more and different kinds of recyclables — plastics with the numbers 3-7, for example — than the former dual stream, which was confined to plastics 1-2, as well as aluminum, glass, tin cans and paper.
Single-stream, Schumacher said, "was going to be the thing."
"It would generate revenue and China would buy it. And then we began to have degraded material … I hate to say it, but single-stream recycling frankly is hurting us. Good plastics have value. But you've got to keep the (plastic) grocery bags and the (Styrofoam) clamshells out of there. It's just terrible what the general puts in there. That's the whole problem. They say, 'oh it's a piece of plastic. It's got to go in.' But not all plastic is the same."
The advantage of single-stream, and the reason Scott Area Recycling converted to it, is that studies showed it boosted participation. If people didn't have to think about sorting, they would recycle more.
Yes, all the items would still need to be sorted at the center, but any increased costs would be more than covered by the collection of more materials.
And that has proven to be the case in the Scott Area. Participation has remained consistently 60 percent higher since the switch, said Kathy Morris, director of the Waste Commission of Scott County, which operates the recycling center. She said she has no regrets about the switch.
But national contamination rates are about 25 percent, on average, according to the National Waste and Recycling Association, a trade group, as reported in the Atlantic. Just a decade ago, the contamination rate was closer to 7 percent.
"The risk of contaminated recycling offsetting gains in recycling participation has become a real issue over the past five to 10 years as single-stream systems have been growing in popularity," Bernie Lee, a commodities research analyst with the Institute of Scrap Recycling Industries, a trade association, told the publication Eureka Recycling.
Recyclers say the answer is education, not switching back to dual stream.
"You can definitely get yourself into trouble if you adopt single-stream and then don't educate people, " Mouw said.