DECATUR — Macon County board members are set to decide next month whether to build a $7.5 million campus with drive-through recycling, county environmental offices, a compost center, solar farm and community gardens on the city's west side. 
Plans for the 109-acre campus in the 1100 block of North Wyckles Road are scheduled for a Feb. 14 vote, with several board committees set to consider the proposal before it goes before the full board. The timeline was provided Tuesday during a special board meeting to review the proposal in detail and hear from residents who either support or oppose the project. 
Macon County Environmental Management Director Laurie Rasmus said members of her department believes the campus can be self-sustaining within six years. She described a number of benefits of the project, noting that a permanent recycling site would allow the county to shift away from recycling events, such as paint collection days. Instead, residents and businesses would be able to take advantage of regular hours to drop off recyclables, such as electronics, and bulk items, like couches and other furniture.
"We wish to make recycling services more accessible to residents by having a permanent site with regular hours," Rasmus said.
Special meeting of Macon Co. Board underway, specifically focused to provide info on proposed $7.5 million recycling campus (more info here https://t.co/0dZY7R8YWA). Old Dem. board rezoned site west of Decatur last fall for project, but new GOP-majority board question its cost pic.twitter.com/IWY3jZ0d5s

— Ryan Voyles (@RVVoyles) January 15, 2019
Republican County board Chairman Kevin Greenfield and others have expressed concerns about whether the county should move forward with a new recycling campus as it faces a roughly $800,000 budget shortfall in the coming year.
Board members did not give much indication during the meeting which way they were leaning on the project, though many of the questions focused on the the site's financials.
Rasmus acknowledged that the campus would not initially be profitable, as it would take time to develop the compost site and raise awareness of the services offered. She said it could become self-sustaining in the first six years through "nominal" recycling fees for certain items and the sale of composting materials to residents and businesses. 
The site would increase the department's personnel expense by $112,587 annually. Some of the cost would be offset with the department's $280,000 in reserve.
Construction of the campus would be covered through a 20-year bond issued by the Decatur Public Building Commission, which manages county facilities. That loan would be paid off using an existing tax levy and with no increases to existing tax rates, she said.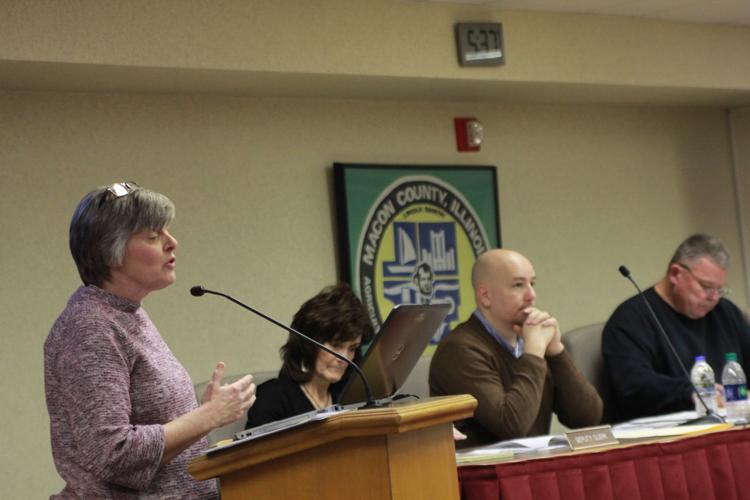 The county recently finished making payments on the bond for its courthouse complex and office building. Officials have said paying off that debt would result in a property tax bill savings of $12 per year for the owner of a $75,000 home. If another bond is not issued to pay for the recycling facility, that savings would be $18 per year for the owner of a $75,000 home.
Dozens of residents showed up to Tuesday's meeting, with the majority speaking during public comments in support of the proposal.
"I am very excited at the idea of Macon County doing something that's so forward-looking," said resident Elizabeth Jeffery. "You hear so many people say so many negative things about the area, but this is an exciting time for us to get ahead."
Other supporters said the campus could be a tool to help retain young professionals in the area. They argued that such a project would only become more expensive as time passes. 
Rasmus said the next step is for the county to approve a resolution that would allow the Decatur Public Building Commission to issue the bond. It is set to go before the county's Environmental, Education, Health & Welfare Committee on Thursday, Jan. 24, before a formal vote at the full board's February meeting. If approved, Rasmus said, the campus could begin operating as early as the end of this year.
"Yes or no, I'd like to see it come up for a vote," she said.
Contact Ryan Voyles at (217) 421-7985. Follow him on Twitter: @RVVoyles
Original Source