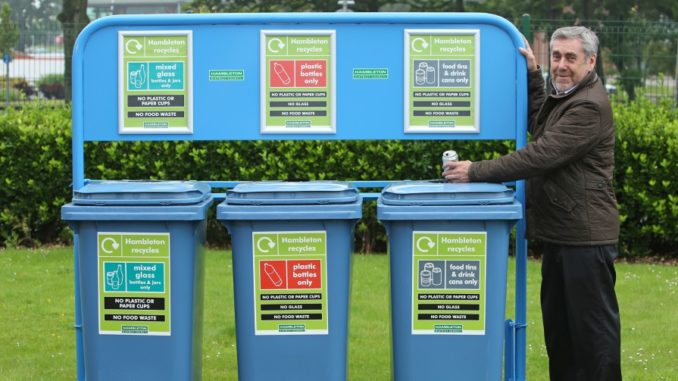 A new recycling centre for events is being piloted by Hambleton District Council this weekend.
It is being trialled at the Northallerton Homegrown Food Festival on Sunday 30 June to encourage people to think more about what and how they recycle.
The centre will feature three separate banks to take glass bottles, drink cans and plastic bottles – all other waste can be deposited in separate wheelie bins.
The system has been created as a result of feedback from the visit of the Tour de Yorkshire to Bedale when recycling banks were contaminated with waste and nothing could be recycled.
"We had recycling banks out across Bedale Park and marketplace alongside general waste bins but they were incorrectly used and resulted in all the waste being contaminated," said Councillor Stephen Watson, Cabinet member for waste and recycling (pictured with the new recycling station).
"So we have created this events recycling station which we hope will encourage people to put the right product in the right bin.
"If this scheme works we will roll it out to all outdoor events and shows.
"Recycling as much as possible is a key aim of the district council and one which our residents are very good at with our kerbside collections.
"However we need to get better at outdoor events where it is all too easy to put all rubbish in one bin – we hope this idea is the way forward for that."
Original Source