As the generation that "grew up with climate change," it might be time for Penn State students start thinking about the different materials they recycle, according to Penn State sustainability experts.
Penn State offers seven different bins for recycling to faculty and students. However, there are many things students aren't aware of about recyclables.
Richard Stehouwer, professor of environmental soil science, currently serves as the chair of the Board for the Centre County Recycling and Refuse Authority. He said that the Authority tries to make it "easy" and "obvious" about the things that are able to recycled. While he said there has been an increase in sustainable habits at Penn State, there are still issues with recycling.
"The biggest problem with what the university collects is low participation rate and high contamination," Stehouwer said.
At the Centre County Recycling and Refuse Authority, Stehouwer said there is debate on whether Centre County should take up single stream recycling, which doesn't involve sorting waste before being recycled. Single stream recycling often results in high participation rates — but also higher contamination rates. Stehouwer doesn't see the benefit in turning to the different method.
"The participation rate is already high in Centre County [so] we probably wouldn't get an increase in participation," he said. "We would get more contamination and we'd lose markets for the materials."
Markets for waste products has been an issue in the United States recently. For years, China had accepted the United State's garbage and recycled materials. Yet China chose to stop accepting waste about a year ago because the materials were "too contaminated," which means the United States doesn't have anywhere to send these materials anymore, Stehouwer said.
This has turned recycling into a market where products must be sold in order to be processed, but Stehouwer said that the United States "doesn't have the infrastructure" to process the recyclables they receive. As a result, many plastics end up in landfills even if they are put into a recycling bin.
Douglas Goodstein, the associate director for student engagement at the Sustainability Institute, said Centre County currently stores its recycled materials rather than sending them to landfills.
However, he said that there is a "finite amount to be stored," because there is "no market" for these materials. Eventually, the plastics in Centre County will build up to the point where they might have to go to landfills if they cannot find a place to sell them to.
Goodstein explained that to help deter the materials from reaching landfills at a faster rate, students shouldn't "rely on recycling as the only resort."
While recycling might make students "feel good," Goodstein said there are a lot of things about the process students don't understand.
"The recycling system has become sold to students," Goodstein said. He described the system as being "complicated," because not all recycled materials are "treated the same."
'A common misconception'
On campus, he said many students use single-use plastics cups from Starbucks or Dunkin' Donuts, which "have no value" because they cannot be remade into new products. Different plastics, like a Gatorade bottle, have more value because they are able to be reprocessed.
Joanne Shafer, the deputy director and recycling coordinator of the Centre County Recycling and Refuse Authority, said most recyclables in the country are "blow-molded bottle-type plastic" — or plastic drinking bottles. Shafer said that these plastics are given a number, one through seven, based on the polymer they are made with.
Goodstein said plastic bottles are typically "one" plastics, which are the most valuable. However, he said that single use plastics from places like Starbucks are less valuable and are given a "six" or a "seven."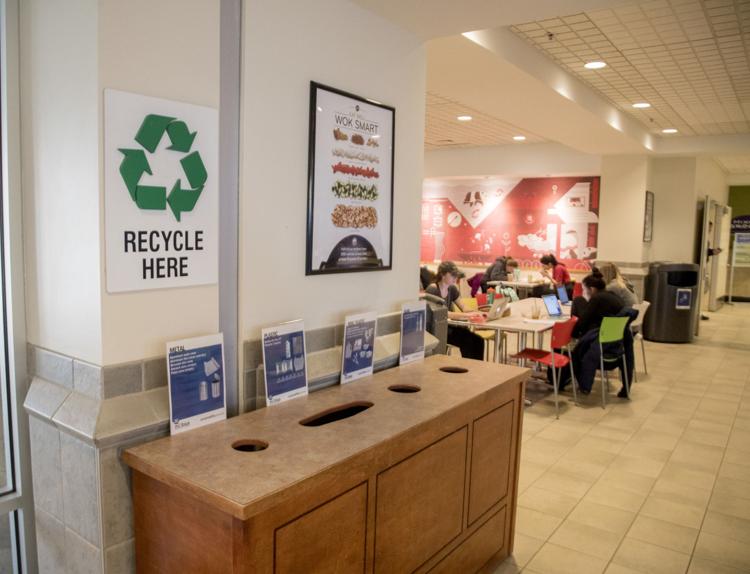 "A common misconception is that anything with a recycling symbol on it is recyclable," Shafer said, explaining that objects like toys, straws, lids and cups are not recyclable. "It is just that, a misconception."
There are many lasting environmental effects on using single use plastics. Goodstein said the shape of plastic changes when it is processed, but the chemical polymers that make up the plastic "always remains the same."
"You can manage [a big piece of plastic], but if that cup turns into 10,000 smaller, little pieces it's easier for it to go into the water," he said, adding that "the most impactful thing a student can do is stop buying disposable plastic bottles."
"Waste reduction is much more preferable than anything, even recycling," Shafer added.
Stehouwer believes one of the main issues with sustainability in the United States comes down to how products are packaged.
"We're never going to get down to zero waste with the way we do things now," he said. "It all goes back to how we manufacture and package materials."
Many products are currently difficult to recycle, because they are packaged with many different materials such as plastic, paper and metal. Stehouwer believes products must be "designed with recycling in mind" in order to be more sustainable.
While he added that students could influence markets through their power as consumers by choosing not to buy non-recyclable products, there would need to be additional legislation to fix the current issue of packaging materials.
Stehouwer believes that many students may lack proper knowledge on products that can be recycled or do not have the "motivation" to sort products before putting them in different bins. He said that this is an additional reason to the contamination of recycled materials.
'You know what to do'
Although he believes that education could help students develop better recycling habits, Goodstein finds that students already have the necessary knowledge to properly recycle.
"You grew up with recycling, you grew up with Earth Day, you grew up with climate change," Goodstein said. "You know what to do. You've known since you were seven."
He explained that Penn State has an "environment where you can do [the right thing]," and education on recycling is not needed from the university.
At the Sustainability Institute, staff are mostly interested in increasing participation rates for recycling by making it an easier thing to do. For students who live in dorms, they are looking into ways to making recycling a simple "behavior."
Therefore, Goodstein encourages students not to worry about the composting bins that were removed from the dorms. He said most people did not grow up composting materials and so it is a "harder thing" for people to understand.
Rather, Goodstein believes students can begin to be more sustainable and make a difference with three steps.
The first recommended step is to reduce single-use plastics. While Goodstein admitted that they can't always be avoided, students can start by using their own cups for water or iced coffee. This can reduce the amount of recyclable plastic that Centre County is currently storing.
Additionally, Goodstein said students should be "more congisant about the resources [they] consume."
He said students should try to cut their shower times in half and turn faucets off when brushing their teeth. When they leave the room, students should turn off any lights or electronics that aren't being used.
He admitted the third step may be the hardest — cutting back on certain meat products. While he doesn't suggest all students become vegans, Goodstein explained that it takes a lot of energy to produce the meat people eat, because energy is lost in the food that the animals consume. Therefore, they have to take in a lot of food and a lot of energy.
"Feel free to have a burger, but do you have to have one every day?" Goodstein said. "Fruits and vegetables are exponentially lower in greenhouse gases and healthier."
The four years one student spends at Penn State may leave lasting effects on the environment for the people who live here, even after they leave. Goodstein and Stehouwer recommend students start thinking about the resources they consume on a daily basis.
"You are generating landfill waste that some other community that you are never going to live in has to deal with the impact of," Goodstein said. "I think there's an incredible ethical impact with that."
Original Source